NORTON HISTORY for Betty Wilcox's ancestors
BETTY'S GREAT GREAT GRANDFATHER
James Norton I (27 July 1795 – 31 August 1862) was a solicitor and public figure in early colonial New South Wales. Admitted to practise in England, he arrived in Sydney in September 1818. First wife Jane Mackenzie.
BETTY'S GREAT GRANDFATHER
James Norton II (1824-1906), solicitor, was born on 5 December 1824 in Sydney, eldest son of James Norton and his first wife Jane, née Mackenzie.
On 1 June 1854 at Longford, Tasmania, he married Harriet Mary (d.1860), daughter of deputy commissary general Thomas Walker, and in 1859 bought Ecclesbourne, Double Bay. On 31 December 1862 he married Isabella, sister of Professor W. J. Stephens.
BETTY'S GRANDFATHER
Edward Norton m. Alice Wilkenson (who was left with a Wilkenson family in Sydney. Her parents (name not known) disappeared en route to India.
The 12 Children of Edward and Alice -
1. Arthur m. Edith Priddle (a cousin)
2. Hubert did not marry
3. Edward m. Ellsie Herbert
4. Cecil m. Ellena Kent-Hughes
5. Ernest (Billy) m. Helena Hague-Smith (Betty's parents)
6. Walter m. Ester Taylor
7. Alfred m. Sybil Wright (no children, had a 2nd marriage ?)
8. Oswald m. May Ogilve (4 children)
9. ? Died young?
10. Ethel m. George Waller?
11. Gertrude m. Robert Gill
12.Murial m. Jack Gill
Edward Norton owned "Tiara" Walcha, NSW which had been purchased in the 1820's
BETTY'S FATHER
Ernest (Billy) m. Helena Hague-Smith
The 4 children of Ernest & Helena
1. Edward died age 35 in an accident
2. Alice (Girl) m. Dudley Strelitz
3. Helen m. Tom Cordingly
4. Edith (Betty) m. Jack Wilcox
"Billy" (Fa-fa) Norton (Betty's father) had little education because of working on the "Tiara" property.
He managed "Blithswood", Quirindi, NSW (owned by his grandfather).
Married to Helena Hague-Smith, Betty and all her siblings were born there.
There was a family feud over the "Blithswood" property. Two girls sold their portion. Billy thought he had inherited the whole property.
Billy was given a small home in Walcha sold to Walter.
He moved to "Limber", near Tamworth, which he bought.
Then share farming a dairy near Tamworth
Then to Armidale, He built a house "Moor Park" on 40 acres with Cherry Orchards and 2 other fruits. Also an Apiary and a Metal Quarry.
There was a spring on the property. (The property was lost in the depression)
On his small portion of "Tiara" he lost his sheep when they ate sheep dip powder.
In ill health he got a block of flats in Manly where he and Helena lived.
The business side was managed by Ted.
He had osteoarthritis in the hip and died aged 82 .
At one stage he had 2 properties in Elizabeth Bay. The agent who collected the rent went bankrupt. Billy got about 1/- in the pound.
Helena (Nan) lived on her own in a flat at Northwood until about age 83, then lived with Betty.
Earlier Norton history (James I & II) Ancestors can be viewed in the NORTON'S OF SUSSEX & NSW BOOKLET (141 KB)
James I & II Norton Summary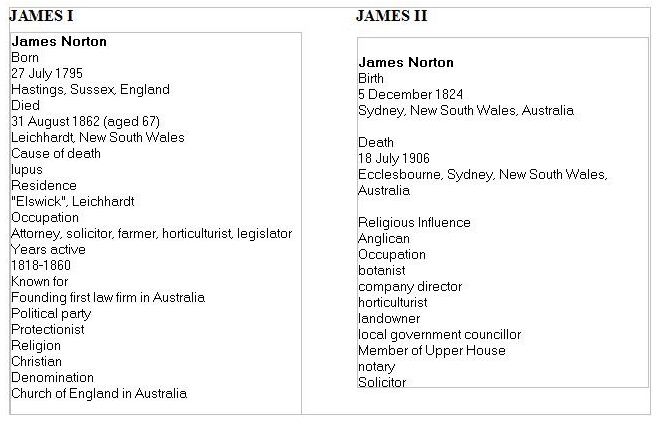 HAGUE-SMITH HISTORY for Betty Wilcox's mother - View as a PDF (65.8 KB)
Samuel Hague-Smith married Mary Ann Lomas in in Derbyshire,
Smith fought during the Maori wars and was rewarded with a block of land on Auckland's waterfront at Northcote. He arrived in New Zealand in 1859 and established himself as an Ironmonger and shipowner based in Auckland.
He minted the first pennies. The Museum Victoria catalogue gives an approximate year of issue for his tokens as c.1862.
He moved to Sydney in 1872 and lived at "Sherbourne". Nelson St., Woolahra.
In 1890 he was a manager in New Zealand Insurance Company, Sydney
He became a director of the Colonial Mutual Life Insurance Company.
He died in Sydney June 20 1917 at "Craigmyle", Burns road,Wahroonga, NSW, Australia
More details on WikiTree
Marianne Lomas born in Sheffield, England in 1816.
In 1861 she was living in MacClesfield, West MacClesfield
Mary Ann Smith wife of Samuel Hague Smith was buried in 1872, in the Weslyan section of Symonds Street Cemetery, Auckland.
Ref. WikiTree
Samuel Hague-Smith & Marianne (Marie Ann) Lomas
Parents of 9 children (Samuel's 1st marriage)
In England
1. Henry (hated his stepmother and changed name to Lomas-Smith)
2. Hannah m. Walker
3. Marianne (Sis or Minnie)
In NZ
4. Samuel (Hague)
5. Edith (Hague)
6. Arthur
7. Adelaide (Addie) m. Fairfax
8. Florence
9. Helena (Nan) m. Billy Norton
Her mother died and as a baby she came from New Zealand to Sydney, Australia
Samuel Hague-Smith & Elise de Bougy
Parents of 4 children
1. Elise
2. Alice Hague-Smith had a 30 acre property
3. Burdett de Bougy Hague-Smith
4 Celwin